As a board member of the Los Angeles chapter of the California Association of Marriage and Family Therapists (LA-CAMFT) and committee chair, Kiki Robinson will bring forth a highly requested training that prepares future clinicians to pass the state licensing exam. 
As new updates to the state exsm have taken effect during the pandemic, students and associates are expected to know and understand these changes. This training will cover the highlights of what may be present on the exam.
To register, click the flyer to the left or use your phone to scan the QR Code. 
To learn more about this training click HERE.
2023 is going to be a year of transformation for us and our clients. As we continue to adjust to a new normal and rediscover what normal actually means to us, we are excited to help you explore what transformation lies ahead. We do more than just provide therapy, but build clients by building communities! 
Our first community-building event of the year is our newest support group for mothers. Whether you are a new mother or have held this title for years, we encourage you to register for this powerful group curated just for the mamas!
To register for the next group cycle, click the flyer to the right or use your phone to scan the QR Code. 
To read more about our groups click on the Services page.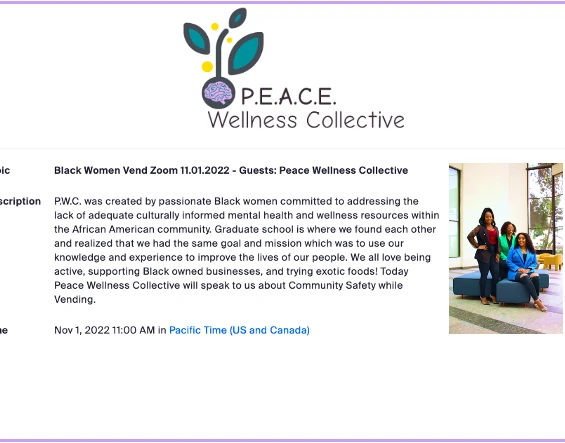 Tuesday, November 1, 2022
11:00am
PWC had the pleasure of guest speaking to the ladies of Black Women Vend, an organization of Black female vendors in Los Angeles. During this event, PWC facilitated an enriching discussion while providing helpful resources on community and personal safety while vending from a therapeutic lens.  The vendors left with tools on how to protect themselves before, during and after a crisis while vending at our local markets and village events.
Sunday, June 05, 2022
12:00pm
PWC hits the streets to support local Black-owned businesses in Leimert Park while giving a facelift to what Black mental health looks like. Vendors shared their views and experiences of therapy within their community and provided invaluable insight into what the village needs in order to cultivate healing.
Wednesday, April 20, 2022
1:00pm
The hosts of the hot new podcast, Not So Crazy Love, Derrick & Erika discussed the benefits of therapy, love languages, and what inner wholeness means as it relates to romantic relationships and Black Love. Listen to the FULL EPISODE HERE.
Sunday, June 28, 2020
7:00-8:00pm
As a response to the grief, trauma, and injustice our community repeatedly endures, we called an immediate live Community Check-in, creating a safe dialogue about the conditions of our culture and ways to cope during TWO pandemics. We had the opportunity to check-in with a single Black mother struggling to parent during 2 pandemics, an actress seeking support for race-related anxiety, and a southern Black police officer sharing his feelings on what it's like wearing blue while Black. If you missed it, no worries. Watch a replay of the event on our Facebook page. 
Saturday, Aug. 3, 2019
11:30-3:00pm
Our first event was a success! We brought the community together at the African American Cultural Center to discuss the stigma of mental health in the Black community. Our audience participated in an interactive Q&A, partook in a demonstration of our upcoming wellness groups, and, of course, feasted in great food designed to support the health of our mind, body and spirit. Guests left with Wellness Kits (value of $100) along with FREE wellness resources to take home! 
Saturday, April. 5, 2019
12:00-1:00pm
Coach Mo went back to her roots on this one! Returning to her graduate school where she received her master's degree, Monifa presented a jam-packed workshop on the basics of sex addiction, social media projections of sexual addictions and criteria for compulsive sexual behaviors. These topics lead to an engaging discussion with students pursuing their graduate degrees in the field of psychology. Now she's a 2020 Summer adjunct professor! 
Saturday, March 16, 2019
12:00-2:00pm
One of our very own, Kiki Robinson, teamed up with St. Stephen Missionary Baptist Church to present an interactive workshop on the stages of complex grief and loss within the Black community follwed by speaking on a panel with Black mental health providers in LA County. We dove into a deep discussion on how to live with God and mental health conditions. 
SPEAK YOUR TRUTH WITH GREENWOODDIST
PWC has a heart and passion for BUYING BLACK! So we've teamed up as Brand Ambassadors and advocates with Greenwood Dist. promoting fashion that commemorates Black excellence AND makes us look good while doing it!  
Check out their website and be sure to use our discount code PWC10 for 10% off any item.
>> Greenwood Dist. Website <<
CHECK OUT GREENWOODDIST ON SOCIAL MEDIA
GREENWOOD DIST. FOCUSES ON